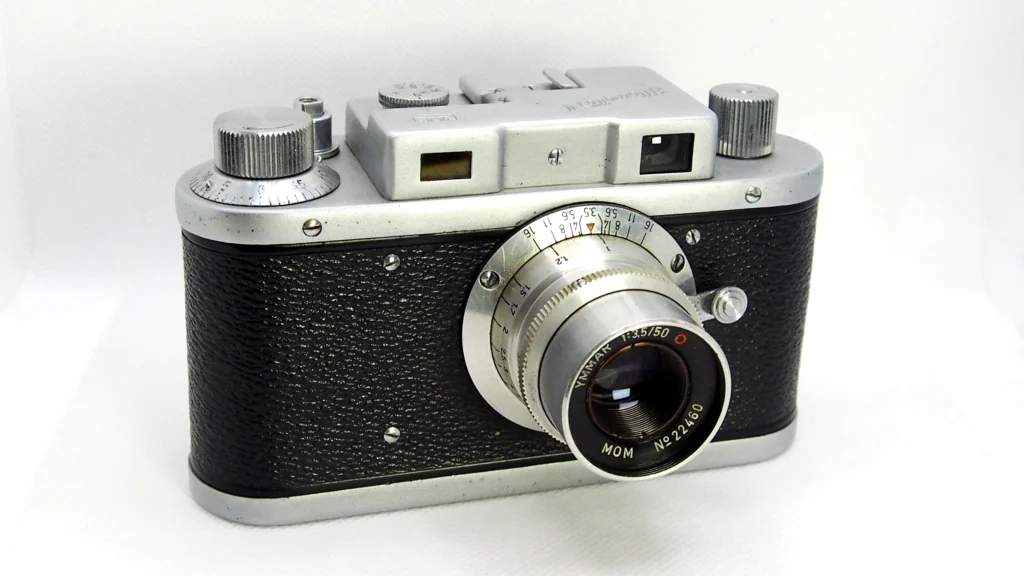 When we think of Hungary, we don't often think of photography.
However, there are a few cameras that came out of the country. Some even argue that the first single-lens reflex cameras came from Hungary and not from Germany.
QUICK INFO
Body, film

35mm rangefinder
Shutter
Cloth focal-plane
Meter
None
Years made
Late 1950s-???
Photo quality
Not tested
Ergonomics
Quirky
As such, there isn't a tremendous amount of information about the camera or its maker, MOM.
There are some YouTube videos (narrated in Hungarian), and one of those videos is embedded at the bottom of this article.
Like many fixed-lens rangefinders from that era, it used a Tessar-type coated f/3.5 50mm Ymmar lens, but rather than a leaf shutter, the Mometta II had a cloth focal-plane shutter, which must have added to the complexity and cost.
The Mometta II has tiny knobs, a somewhat tiny lens that and a tiny viewfinder. Despite this, it's very easy to use.
As far as focal-plane shutters go, this one lacks slow speeds. There also is no ability to synchronize with flash, nor is there a self-timer. There are two tripod sockets on either end of the base.
The Mometta II takes almost full-frame photos of 24mm x 32mm instead of the established 24mm x 36mm format. What's a couple of millimeters? Most people won't notice it and a "long" roll of 35mm film will give you an extra four frames, possibly more. The frame counter actually goes to 49.
The body style is very similar to the Exakta Exa. The ends of the camera are rounded, making it comfortable to hold the body, which is much thicker than other cameras its size.
The shutter release sits toward the back of the camera, which means that you have to reach back when you bring the camera to your eye.
There is a collar that surrounds the shutter release. Push to the left, and you advance the film. Push to the right to rewind the film. You can pull up on the rewind knob, which makes it much easier to use. Otherwise, you would be able to turn the knob less than one half turn at a time.
There is an accessory shoe for some type of accessory. I don't know enough about the available accessories to know if there was a sports finder of some type. It would make sense, because it is in alignment with the lens.
The back is removed by twisting a single key. Inside you'll find an oval pressure plate, which is very unusual. These are always rectangular.
There are no frame lines in the viewfinder. The yellow rectangular rangefinder does its job, although I suspect there was more contrast when this camera was new.  By the way, you focus with by tab – a short arm that extends from the base of the lens.
It's a friendly camera to use, and if you can live without slow speeds, you might have some fun with this camera.
It should also be mentioned that this would be categorized as a "Commie Camera," and May 1 has been designated as Commie Camera Day. May 1 is also International Workers Day, which is when the organized labor movement began in the U.S. in 1886 and also is a day celebrated by socialists and communists.